Kenya harbors refugees from a host of war-torn countries, many of whom are restricted to enduring conditions in refugee camps. Those that arrive in the capital city of Nairobi typically fall through the cracks, being outside the remit of the support services provided by international development organisations.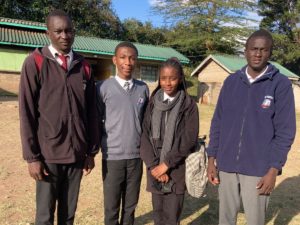 Employment is an impossibility for many as, on top of Kenya's high unemployment rate, non-resident working visas are extremely hard to come by. Due to Kenya's rigid education system, which focuses on continuity, many schools find it difficult to absorb students outside the starting grades. Life for Kenyan-based refugees is thus a bleak one, devoid of human rights, including the right to quality education. Approximately 9% of Edmund Rice Catholic Education Centre's school population derive from countries ravaged by conflict.
Many of the students come from South Sudan, Somalia and the Democratic Republic of the Congo and were referred to ERCEC by community members who trusted the vision and mission of the school. Education provides a source of enduring hope and the prospect of improved living standards for young refugees who have been excluded from so many vital spheres of life. "Our hope has been rekindled even though our country is ravaged with war and unrest" are the words of one Sudaneseborn student.
Another former student, who has since obtained employment in their home country of South Sudan says, "The school and its education have made me feel home away from home, giving me a sense of belonging in the modern world and sense of security."