Mayor of Liverpool City Council, NSW, Wendy Waller welcomed the recommendations of a new research report spearheaded by the Edmund Rice Centre for Justice and Community Education. The report, titled "Refugee Employment Experiences: Struggles, Strategies and Solutions", investigates the struggles and challenges refugees face finding work in Australia.
The report is intended to improve policies and service offerings for refugees so that they can achieve better employment outcomes. Mayor Waller said the report was "eyeopening", highlighting what employment and job-seeking looks like from a refugee perspective. "One of the key findings of the report was the Catch-22 situation many refugees say they face. For instance, many of those interviewed by the researchers consider the best way for them to learn English is in the workplace compared to formal classes but they cannot secure a job because of their limited English skills."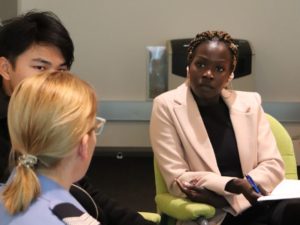 The report concluded that the path to employment for refugees is often a long and winding road, with many eventually succeeding in securing some form of employment after a lengthy struggle. For example, the report highlighted the example of a single mother, who came to Australia in 2018 from Syria, a universitytrained accountant, who felt pressure to pursue a more realistic employment option upon arriving. She currently practices as a hairdresser and while she has some experience in this profession, it still reflects a mismatch between her qualifications and current employment.